Yes! I am happy to announce that the vFit event will happen also at VMworld Europe this year!
Eric Wright (@discoposse) is the creator of this event and you can check how it went at VMworld US here! I love his idea of engaging folks who attend tech events to do some exercise at tech events and why not at VMworld Europe?
Enjoy a run with our great community outside VMworld. You can meet people, share a great moment to run outside the event centers and enjoy the city of Barcelona.
So, this year in Barcelona I will be the organizer for the #vFit event and I hope you can join me and other community folks in the 2019 #vFit runs at VMworld Europe.
Basic information
Anyone can join this event to run with a group of community folks at approximately 6.21min per km / 10min per mile. May be a second group if enough walkers join, we will discuss it once when we meet there.
The meet up for the runs will be at the exit of Europa-Fira station: https://bit.ly/354kRsN
There are two exits at Europa-Fira (showed in blue), you must go to the one which has 3 «big» buildings. Our meet-up will be at the red circle that you can see in the following map: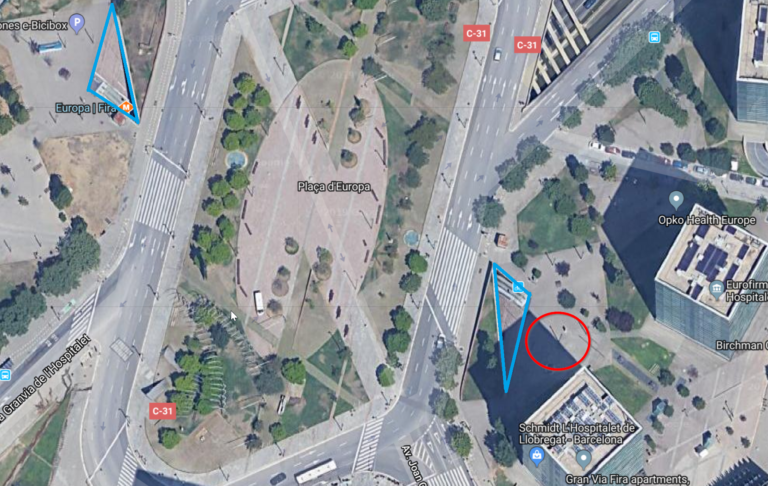 Here you have a Google Street View just in case you're not sure if you picked the correct exit: https://bit.ly/30N3o4x
So, as said we will have the meet up at the red circle that is in front of one of the Europa-Fira exits.
Schedules
Usually, this is a daily run event but, as I am the one organizing it, I can't commit to doing a daily run because I have other duties to do at VMworld.
Therefore I decided to do 2 runs and the time of each meet up is:
Monday, November 4 – 06:45 AM CEST
Wednesday, November 6 – 06:45 AM CEST
On Wednesday many people will be crashed by Tuesday parties however I will be there anyway!
Why not Tuesday?
I'll be heading to the vBreakfast event on Tuesday and also on Monday night there is the vSoccer event so, some rest is needed 🙂
Then, on Tuesday you can rest or even go for a run yourself.
Route
The route goes from Europa-Fira station (where we meet up) to Montjuic (uphill) and then coming back from the other side (downhill) to end at the Europa Fira station.
The route is about 5.5 km / 3.41 miles and we will see some streets from «La Marina» district (where VMworld is hosted) and the Montjuïc Park.
Here you have the route if you want to check it out:
Route map for VFit Running EMEA 2019 by Dan Belmonte on plotaroute.com
How do I join?
Just to know how many people are going to attend, register here on any date: https://www.eventbrite.com/e/vfit-emea-2019-tickets-74746226977
But the main point is to be there at the time specified in the schedules section.
Use the #vFit to share it with the community!

If you need more information, just send me a DM on Twitter or comment on this post and I'll be glad to help you.
See you there!