To finish these posts about VMworld  2018 Europe, I am going to summarize day 3 and day 4 together as day 4 is usually the less busy of all of them (people usually leave in the morning).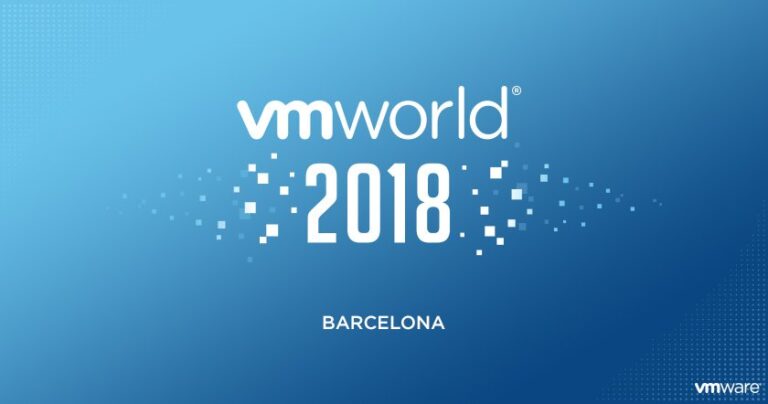 On day 3 (Wednesday), I rest like 5-6 hours (pretty normal to me) after spending some part of the night at the Veeam Party. I made it to be at the enclosure at 8:30 AM because at 9:00 it will start the second general session.
I grabbed some coffee and go to the correspondent Hall, the same as the day before.
2nd General Session
For me it was a weaker session than on the previous day but, I was great.
Here you have a link to the Youtube video of the session: https://www.youtube.com/watch?v=5W_8t6F_yY0
In the previous post, I forgot to mention the VMware ESXi on a Raspberry PI as a prototype, that Pat and Ray showed us, really cool.
vCommunity, vStreetfighter and more
I must say that I had like 4 sessions scheduled on Wednesday and I only went to a couple of those. The most of the time I was hanging with people from the vCommunity and playing also I played some Street Fighter V in the gaming area. We have a group for that, check out #vstreetfighter for some tweets on Twitter and join us!
First, let me show us a couple of fights that I had against Bilal Ahmed (I lost and I don't how yet…). You can check here that Gregg Robertson offered a challenge against me at the gaming area.
So I was Ryu he was ken . I beat him 3 times in a row…..then we played alpha2 and I was akuma and he whooooppped my ass 🤣 I do admit there was some luck and button bashing on my part lol pic.twitter.com/XqDEBy5icI

— Bilal Ahmed (@Dark_KnightUK) November 7, 2018
Another picture I took from him while been interviewed (Will we see this interview at any time?)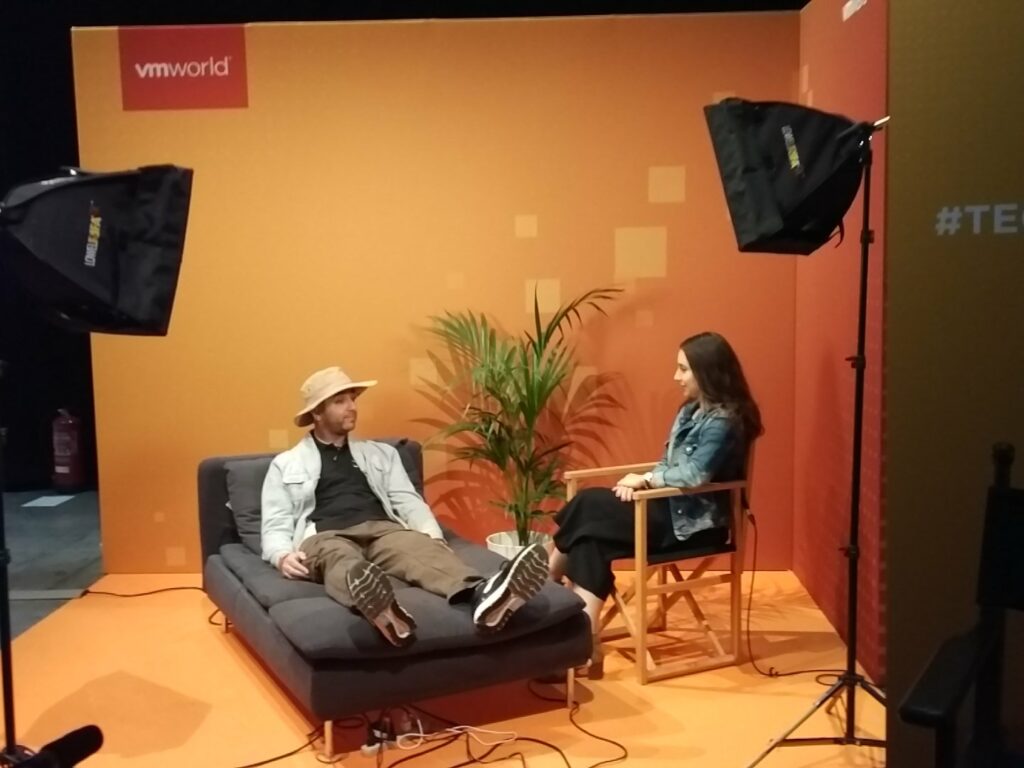 With Brett Guarino who, is really a nice guy and chatted a lot with him!
Absoultely awesome finally meeting @DanBelmonte_ ! pic.twitter.com/3hqPKwBkfb

— Brett Guarino (@Brett_Guarino) November 7, 2018
Here a blurry photo with Chris Williams! Also, there is half Val there! haha
Last selfie I took today with some of the @vBrownBag crew! @mistwire @homelaber #VMworld These guys rock! pic.twitter.com/LnuTnVxVq9

— Dan Belmonte (@DanGaiden) November 8, 2018
I can't be happier to be able to meet these persons and more that I didn't mention or couldn't take a photo. When you are there, the time passes by quick and because of this, I  didn't go to some sessions (I knew that I could watch them later at home).
I enjoyed having dinner with Chris a couple of times, hanging a lot in the Solutions Exchange area or with Jorge de la Cruz to everywhere.
Thank you to Virtual Speaking Podcast for the Headphones, I was the lucky winner!
VMparty
I was there about an hour or so and there I went with Jorge de la Cruz to have dinner in a nice restaurant.
There was plenty of fast food: hamburgers, nachos, seafood, candy and more… so, if you want to feel full, you can't go there!
Also, a Rolling Stones tribute band was there and they played really well!
The end
Well, I left around 5 PM and say goodbye to some people that still there.
It only would have been better if Gregg Robertson and Ariel Sanchez were been there.
And that's all! Last post of the year obviously because it's the last day.
P.S. : I forgot to mention I took a photo with someone… Rodney Mullen!